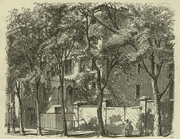 St. Vincent's Hospital is a non-fictional Catholic hospital in lower Manhattan, which ministered free services to the poor in Five Points.
Non-fictional History
Edit
St. Vincent's, named after Saint Vincent de Paul (a priest known as the "Great Apostle of Charity") was originally founded by four nuns known as the Sisters of Charity.[1] [2] It opened for patients on the 1st of November in 1849[3] and was situated in a small red brick house on 13th Street between 3rd and 4th Avenues. [4]
The crowded house included 30 beds[2] and the three nuns worked around the clock, sleeping in the only remaining room which was reportedly "cramped and uncomfortable" by the New York Times.[3] There as no clean water available nor gas, which began installation in the 1820s.[3]
It was soon realized that the lone house was simply not large enough and in 1852, the adjacent building was also rented.[3] Both bulged at capacity when in that same year a typhus epidemic struck.[3]
Eventually in 1856, the hospital moved into an old structure that had been an orphanage and was located on 11th and 7th.[5] [3] It too was not ideal with its low ceilings and limited space.[3] As funds were obtained, they built new wings and expanded greatly until the 1980s, when a more modern structure was built. [5]
Sadly, the hospital eventually ran out of funding and was forced to close its doors in 2010.
[6]
Historical Trivia
Edit
In the Series
Edit
Series Trivia
Edit
References
Edit
Ad blocker interference detected!
Wikia is a free-to-use site that makes money from advertising. We have a modified experience for viewers using ad blockers

Wikia is not accessible if you've made further modifications. Remove the custom ad blocker rule(s) and the page will load as expected.