Eva Heissen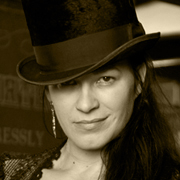 Allegiance
Herself, Kevin Corcoran
Portrayed by
Franka Potente
"In my profession, one learns not to say what goes on between a man and a woman."
–Eva Heissen
Biography
Edit
With a saloon and brothel located in the center of Five Points, Eva Heissen, the Madame of Eva's Paradise, is a shrewd businesswoman. A long list of patrons including Corcoran, Maguire, and several other coppers from the Sixth Precinct, help Eva maintain control over her employees with stern precision. Slow to trust, her suspicious nature helps her stay one step ahead of her clients and maintain a successful business. Despite her tough-as-nails exterior, she shows her gentler side when she is with Corcoran – who finds comfort in Eva's arms while his heart yearns for his missing wife.[1]
Relationships
Edit
Memorable Quotes
Edit
"In my profession, one learns not to say what goes on between a man and a woman."
References
Edit
Ad blocker interference detected!
Wikia is a free-to-use site that makes money from advertising. We have a modified experience for viewers using ad blockers

Wikia is not accessible if you've made further modifications. Remove the custom ad blocker rule(s) and the page will load as expected.