Andrew O'Brien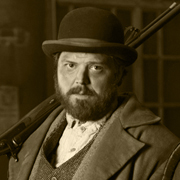 Portrayed by
Dylan Taylor
"I'll put a slug in your head and have Chang the Chinaman cut up your privates for chop suey."
–Andrew O'Brien
Biography
Edit
Detective Andrew O'Brien is a colleague and companion to Corcoran and Maguire. Often teased about his acquiescence to his overbearing wife, he is fiercely loyal to his family and friends. Leaving a trail of tobacco spit in his wake, O'Brien never turns down the opportunity to have a drink or a laugh. Faithful to – and slightly afraid of – his wife, O'Brien will visit Eva's for a drink, but never goes upstairs.[1]
Relationships
Edit
Memorable Quotes
Edit
"I'll put a slug in your head and have Chang the Chinaman cut up your privates for chop suey."
References
Edit
Ad blocker interference detected!
Wikia is a free-to-use site that makes money from advertising. We have a modified experience for viewers using ad blockers

Wikia is not accessible if you've made further modifications. Remove the custom ad blocker rule(s) and the page will load as expected.